Next:
Scandinavian paper industry
Up:
Pulp and paper technology
Previous:
Mill techonology
It is interesting to note that some mill-types are typical for certain geographical regions. For the analysis of different geographical areas the data was separated to 11 sets each consisting of pulp and paper mills in a certain area. The data sets were projected on the map and based on the resulting histograms some conclusions can be drawn for each region, as listed in table 5.7.
Four of the histograms are shown in figure 5.7: Scandinavia, North America, Far Asia and China. Scandinavia and North America represent technologically advanced regions. Scandinavia, in particular, has mostly new, high-capacity mills the majority of which produce printing/writing papers and pulp. North America has in addition a large number of old and small industrial paper mills. Far Asia, on the other hand, is a growing region with mostly average or small capacity mills, though the paper machines themselves are big. China is a special case: their mills have many machines and the mills produce both industrial and printing/writing papers. Both Far Asian and Chinese printing/writing paper is almost exclusively wood containing.
| | | |
| --- | --- | --- |
| Region | Mills | Description |
| Scandinavia | 149 | Big capacity mills, newsprint and pulp-only mills but relatively little industrial paper. |
| Western Europe | 1004 | Even spread of all mill-types, special notice on the many mills using disperged waste paper. |
| North America | 759 | Printing/writing paper production resembles that of Scandinavia, but in addition quite a lot of old SMALLIND mills. |
| Eastern Europe | 302 | Industrial papers; old SMALLIND mills and mills making mechanical pulp. Also some mills in DIWA cluster. |
| Latin America | 533 | Even spread of all mill-types, special notice of mechanical pulp. |
| Near and Middle East | 65 | Industrial papers, mills in DIWA and BIGIND clusters. |
| Africa | 106 | Mainly industrial papers. |
| China | 370 | Many paper machines, woodfree paper, some high-capacity industrial paper mills and several small pulp-only mills. |
| Japan | 221 | Even spread of all mill-types, many mills using deinked waste paper. |
| Far Asia | 665 | Woodfree and various industrial papers, many of them with high capacity machines. |
| Oceania | 31 | Mostly new machines, otherwise an even spread of all mill-types, many mills in DIWA cluster. |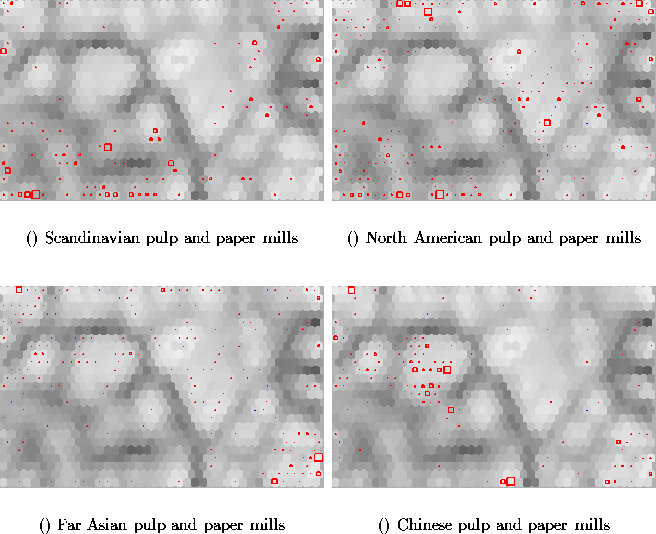 Figure 5.7: The data set histograms of four different geographical regions on the u-matrix of the pulp and paper mills map. The bigger the square the more mills were projected to that unit on the map.

---




Next:
Scandinavian paper industry
Up:
Pulp and paper technology
Previous:
Mill techonology
Juha Vesanto
Tue May 27 12:40:37 EET DST 1997